The global pandemic has left many industries' futures, including manufacturing, with problems. Supply chain issues, delays in shipping, and the inability to secure quality products from overseas producers have led to many changes in the world of plastic manufacturing.
So what is it customers need to handle their backlog of orders and streamline their processes in the future? A reliable, quality supplier that can offer shorter lead times, greater quality control, and reduced freight costs.
CBM Plastics knows the pains that companies face, both due to the pandemic and moving forward into the future. Through their vast experience and the dedication of their customers, they have helped solve the problems many companies face with their plastics manufacturing.
CBM Plastics is located in the U.S., which allows greater quality control, makes it easier for customers to monitor production and changes and helps reduce shipping costs and product lead times. Read on to learn more about the future of plastic injection molding, or contact CBM Plastics today to find out how they can make your next plastic project a reality.
The future of plastic injection molding
Plastic injection molding is one of the top manufacturing processes in the plastics industry due to its ability to accommodate long runs of even the most detailed plastic products or parts. As the world continues to change, many are wondering whether plastic injection molding will continue to be one of the popular high-volume plastic manufacturing processes or if the changing market will affect it negatively.
When considering the future of plastic injection molding, three main influences will affect its future in the world of manufacturing: Advances in machinery, developments in plastics, and the needs and demands of the market.
Machinery advances
Technology advancements have had a significant impact on the injection molding process and have allowed manufacturers to maximize the performance of equipment and increase the overall efficiency of the process.
Increasing automation and the introduction of robotics allow manufacturers to closely monitor issues affecting the quality of products, such as the pressure of the injection and the temperature of the thermoplastic. These advancements enable manufacturers to create consistent, high-quality products and parts while maintaining efficiency.
Developments in plastics
Customer demands have pushed manufacturers to find plastics that will be less environmentally impactful or contain specific qualities such as increased strength and durability, resistance to high temperatures, and anti-bacterial properties. This, along with customer desire to have recycled plastics in their products, has led to an increase in the development of plastics and polymers that have less of an environmental impact and have the properties they need for the product they are utilized in.
Changing market
Market demands and a shift in customer awareness and ideals have also influenced the future of injection molding. The need to reduce the carbon footprint of manufacturing has led to more eco-friendly polymers and processes, and the need to make up for supply change issues and delays has led companies to seek manufacturing companies in the U.S. to produce their plastic parts and products. Also, with the increase in the price of products, more consumers are focusing on accuracy and quality, two of the benefits of injection molding machines.
How will technological advances affect plastic injection molding companies and their processes?
The technological advances in plastic injection molding have mainly affected the performance of the process. Along with the innovation in automation providing more control, it also provides data that operators can use to focus on preventative maintenance and repairs and reduce machine downtime.
Innovations in 3D printing have allowed for more rapid prototyping, allowing projects to move from conception to production more rapidly. All of these innovations have helped to improve the accuracy of injection molding, reduce the cost of the process, and lessen the waste produced by imperfections.
How have changes in plastics affected plastic injection molding?
Changes in plastics and virgin materials used in plastic injection molding have also significantly affected the performance and capacity of plastic injection molding and the process's impact on the environment.
Innovations in plastics have not only produced plastics that have needed properties but also ones that are:
Lightweight
Reliable and stable
Able to outperform metals and other materials
Some of the plastics becoming more widely used in plastic injection molding include:
Compostable plastics: These are biodegradable, disintegrate in compost, and support plant growth when composted.
Biodegradable plastics: These degrade over time by being exposed to fungi, microorganisms, and bacteria.
Degradable plastics: Under certain environmental conditions, this plastic will change its chemical structure and break down.
Why is plastic injection molding so crucial for today's products?
Plastic injection molding is and will continue to be a commonly used method of plastic production due to the many advantages that come with it. These benefits align with the changing needs and demands of the customers and markets believed to continue in the manufacturing space. Some of the reasons that plastic injection molding is important as a manufacturing process include the following:
It reduces waste: The plastic used during the process can easily be recycled and reused during the production process, which helps plastic manufacturers control the waste from each run, reducing costs and lowering the environmental impact.
It is cost-effective: Plastic injection molding is one of the most cost-effective plastic manufacturing processes. Automation, its ability to use lightweight yet durable plastic, and its efficiency for mass production allow you to control the costs of your products.
It is customizable: Since plastic injection molding uses high pressure in the mold cavity, you will be able to get a lot more detail out of your molded components or molded parts. This allows you to completely customize your design, even if it requires significant detailing. You can further customize your products by adding custom colors during the process.
It produces strong parts and products: Even though plastics have received a bad rep regarding the environment, they are one of the strongest and most durable materials for parts and product manufacturing. The innovation in plastics has provided a more eco-friendly option to achieve the strong, durable parts, and products you need.
It produces high-quality pieces: Some of the greatest accuracies are achieved with plastic molding injection, and it is virtually error-proof. This process allows you to manufacture intricate parts that you may not be able to produce through other methods due to their intricacy and need for accuracy.
How are plastic injection molding companies changing?
As advancements in technology, equipment, and plastics have changed the products and parts produced by plastic injection molding, plastic injection molding companies have also begun to change as well. These changes are also a result of changing market and customer needs as well.
Robotic and automated loaders and unloaders have increased the efficiency of the production process, allowing operations to focus on other aspects of the production process. Hybrid molding machines have also changed operations in plastic molding by reducing energy expenses and allowing for high-quality levels.
A renewed focus on sustainability and growing environmental concern has also affected how plastic injection manufacturing companies operate. Many companies are beginning to include green processes in their operations, such as:
The use of toxin-free materials: Many companies are increasing their use of toxin-free materials in the production of their plastic parts and products.
Improving energy efficiency: From switching to energy-saving lighting to more energy-efficient machinery, plastic manufacturing companies are looking to reduce their overall energy use.
Minimizing waste: Companies are also focused on reducing waste from landfills, from reusing plastic during production to reducing packaging waste.
How long does a plastic injection mold last?
Plastic injection molds can last through production runs of hundreds to millions, with their true lifespan depending on their structure, maintenance, and the environment in which they are contained. Even though molds can last for a long time, they are regularly checked for scratches, gouges, lines, and other imperfections that could affect the performance of the mold.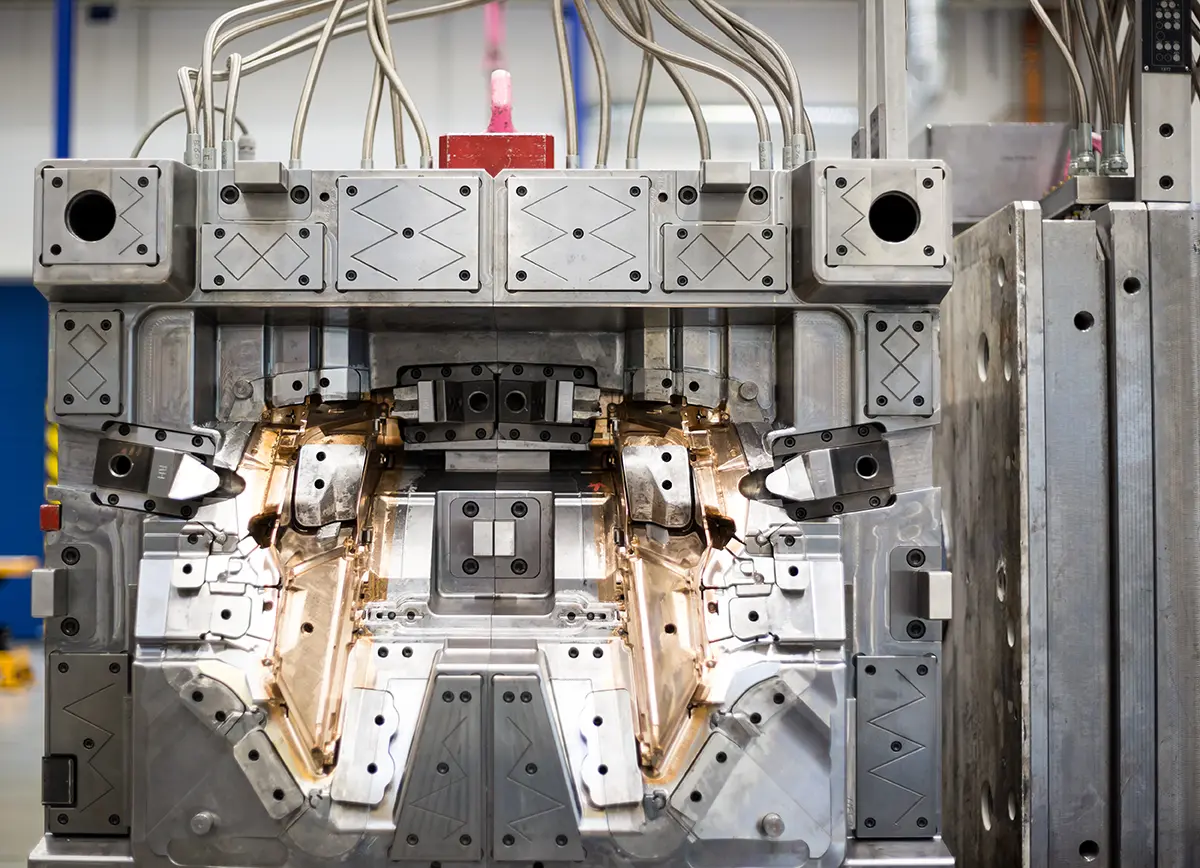 How are changing customer wants and needs affecting the future of the plastic injection molding process?
Customer wants and needs are also pushing for changes in the plastic injection molding process. Increased pricing of products has led to companies demanding higher levels of accuracy and quality control to convince consumers to continue purchasing their products at a higher price.
Customers are also looking for greater control over quality, supply chain issues, and shipping times, as recent pandemic events have caused major issues with lead times, especially when using overseas manufacturing. This has led to many customers seeking out plastic manufacturers in North America, where customs and shipping issues can be mitigated.
Get started on your next plastic injection molding project with CBM Plastics
Whether you are looking to use plastic materials to produce your new part or product, CBM Plastics is here to help from start to finish. Plastic injection molding is a great option that can provide you with a cost-effective production method that allows you the versatility of creating the perfect design. Find out whether plastic injection molding is the best option for your plastic project contacting our specialists at CBM Plastics today.