Expertise to Meet Your Plastic Injection Molding Needs
What is Custom Injection Molding?
CBM Plastics helps you choose the best production process for your parts needs. Custom injection molding is the perfect choice for smaller, intricate parts and larger production runs. In this process, a custom mold is created. Plastic raw materials are then heated to a molten state, injected into the mold, and cooled to create a finished piece.
You can count on CBM Plastics to help you every step of the way, with design services and manufacturability feedback, to avoid design pitfalls and achieve the desired product outcome. Our process makes it easy to collaborate and move forward, from concept to production.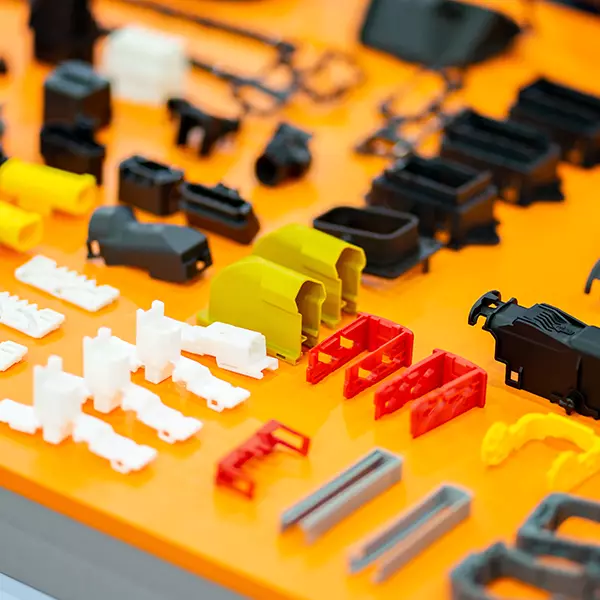 Providing Quality Parts and Outstanding Service
Plastic parts are used in many industries for their versatility, strength and application flexibility. When you have an idea for a part design that is unique to your company, choose a partner that will take the time required and provide you with the service necessary to meet your custom plastic injection molding needs.
Relationships: Relationships are a big part of everything we do.
Quality: Get the high-quality products you need, on time and within budget.
Proximity: Our convenient Midwest location gets products to your location quickly and cost-effectively.
Cost: Highly-competitive pricing and proximity-based freight costs save you money.
Advantages of Custom Plastic Injection Molding
CBM Plastics maintains a high standard of excellence in all we do. Advantages to you of our custom plastic molding process include:
Detailed Tooling Capabilities: Injection molding is the perfect process for producing extremely complex components, with a high degree of detail and surface finish options.
Perfect for Large Volumes: With its detailed and durable molds, custom injection molding is capable of producing large quantities of parts with extreme precision for many years.
Lower Long-Term Costs: Although the initial tooling costs may be higher due to the material used in creating the mold, this is balanced by the lower piece part prices.
Process Efficiency: Injection molding is highly efficient, so there are very low scrap rates. We can precisely predict the amount of material needed to fill the mold for each component, so there is little waste.
Production Efficiency: This is a highly-automated process, which enables us to perform continuous production runs.
Versatility: CBM Plastics can produce a plastic part in any color a customer desires.
CBM Plastics Is Your Custom Plastic Molding Solution in Illinois
As a business partner with CBM Plastics, you can expect our team to manufacture the products you need, and to act as a partner in solving your production problems. We provide a unique structure and schedule that works with your deadlines and budget. At CBM Plastics, your plastic molding needs benefit from:
Industry Expertise:

CBM Plastics is a family-owned and operated company in Arthur, Illinois, with over 25 years of in-depth experience in profile extrusion, custom injection molding, and thermoforming. Our team strives to understand your needs and provide innovative solutions and services to accomplish your business goals.

State-Of-The-Art Technology:

Over 60% of our custom injection molding equipment is less than five years old. We have incorporated the latest in robotic automation capabilities to improve product quality and increase productivity.

Broad Range of Industries Served:

CBM Plastics provides custom injection molded products for virtually every industry, including outdoor power equipment, lawn and garden, agriculture, construction, and janitorial.

Quality Focus:

Collaboration with CBM Plastics will focus on a design for manufacturability to develop the best solutions and ensure the quality you need.

Central Midwest Location:

Supply chain disruptions mean an increasing imperative for reshoring manufacturing to U.S. companies. Our central Midwestern-U.S. location means shorter lead times for on-time delivery and reduced freight costs.
Contact CBM Plastics for All Your Plastic Production Needs
From design and development, to delivery of finished parts, CBM Plastics works for you. We are committed to your success, whether your project is a simple mold and ship part, or one that requires assembly of multiple components. Our mission is to provide you with quality parts in a timely manner.
Headquartered in Arthur, IL, CBM Plastics offers a single-house supplier experience with extensive fields of expertise and on-site equipment. Call us now at 217-543-3870 or email info@cbmplasticsusa.com to schedule a no-commitment consultation appointment or receive a cost quotation. We highly encourage this first step in the relationship-building process, so contact us now and let's start a conversation about your custom injection molding needs.