Choose CBM Plastics for All Your Plastic Injection, Thermoforming, and Profile Extrusion Needs
Providing Quality Parts and Outstanding Service
Plastic parts are used in all types of industries because of their versatility, strength and application flexibility. When you have an idea for a part design that is unique to your company, choose a partner that will take the time required and provide you with the service necessary to meet your plastic production needs.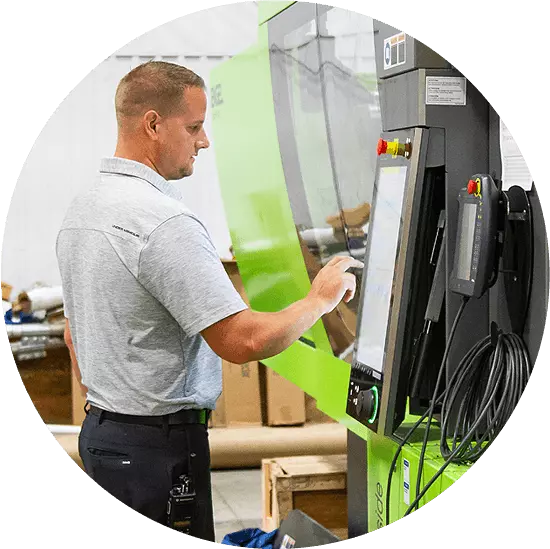 Choose CBM Plastics
A Plastic Molding Company in Illinois That Solves All Your Plastic Manufacturing Challenges
Relationships: Relationships are a big part of everything we do. We are firmly committed to building strong relationships and have an outstanding reputation for customer service and business confidentiality.
Quality: Now you can partner with a team of plastic design and production experts who work hard to understand your rigid requirements and deliver the high-quality products you need – on time and within budget.
Proximity: Our convenient Midwest location helps you escape the challenges of securing reliable shipping from offshore producers, and reduces freight costs from far-away U.S. manufacturers.
Cost: You benefit from our highly-competitive pricing and lower, proximity-based freight costs.
CBM Plastics welcomes the opportunity to partner with you and deliver custom plastic parts. We provide innovative solutions, quality parts, and outstanding customer service to help accomplish your business goals.
One-Stop Solution for Your Plastic Production Needs
CBM Plastics has the unique ability to utilize multiple types of plastic manufacturing processes to create a one-stop shop for your business, in order to streamline your supply chain – we do it all!
Plastic Injection Molding Company 
Plastic injection molding from CBM Plastics is the answer if you need an economical solution for higher volume production runs. This process injects molten plastic at high pressure into a steel mold. The plastic cools in the mold, and is then ejected from the mold as a finished part.  
Plastic Thermoforming Company
When you have large-scale designs or shorter production run requirements, CBM Plastics offers the perfect plastic thermoforming option. Here a sheet of plastic is heated to a sufficiently-high temperature, so it can be placed on a aluminum mold and vacuum drawn to conform to the specified shape. 
Custom Profile Extrusion Company
Count on CBM Plastics for the ultimate in versatility with our custom profile extrusion capabilities. Molten plastic is pressed through a die to create a linear part with the same cross-sectional geometry for its entire length. We provide added value with downstream equipment by cutting to lengths you specify or punching holes as needed. 
Benefits to You for Working With CBM Plastics
CBM Plastics maintains an extremely high standard of excellence in all we do. As a business partner with our family-owned business, you can expect our team to manufacture the products you need, and to act as a partner in solving your production problems. We provide a unique structure and schedule that works with your deadlines and budget. You benefit from:
Industry expertise, with over 25 years of experience providing quality products for virtually every industry.
Quality commitment to providing on-time service and quality products.
Relationships are a big part of our culture. Customers trust CBM Plastics to provide the quality parts they need and the great service they deserve.
Quality focus, with an emphasis on designing for manufacturability to develop the best solutions.
State-of-the-art technology that increases productivity, maximizes quality, and controls costs. We are constantly upgrading and improving our automation capabilities to serve you better.
Central Midwest location for faster delivery times and lower freight costs.
Collaboration – our team works with your team to develop the most viable solutions for your specific needs.
Problem solvers: Bring us your problems, and we'll help find solutions.
Family-oriented focus on building relationships and helping your business achieve its goals.
With our broad range of expertise and high-automation on-site equipment, CBM Plastics provides a single-house supplier experience. We are here to work for you, with quality parts and great service!
Industries Served by CBM Plastics
CBM Plastics has a great deal of experience in providing customers with the expertise and service they need.
Industries we serve include:
Construction
Agriculture
Outdoor Power Equipment
Lawn & Garden
Janitorial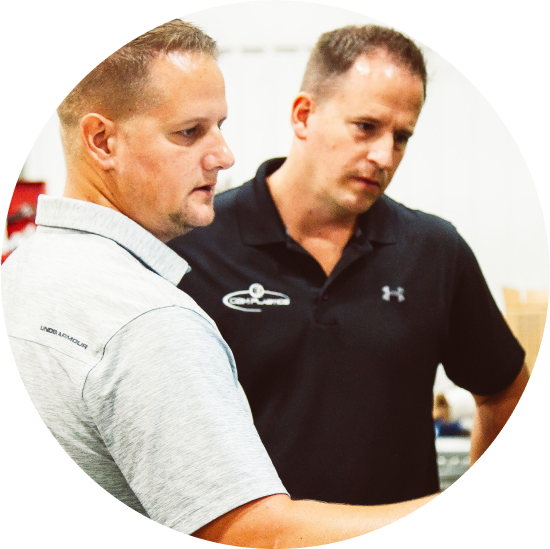 Make CBM Plastics Your Trusted Partner in Plastic Parts Production
CBM Plastics works to help customers succeed every step of the way. We offer in-house design support services and engineering input that will help avoid design pitfalls, so you can achieve the desired product outcome. Our process makes it easy to collaborate and move forward, from concept to prototype to production.
We are firmly committed to building strong relationships with customers, and will work closely with your engineering, research and development, and operations teams to collaborate on new products and optimized solutions.
When you need industry knowledge, quality parts, lower freight costs, great prices, and a single-source supplier for your plastic part requirements, trust the experts at CBM Plastics to provide the quality commitment and outstanding customer service you need and deserve.
Contact CBM Plastics for All Your Plastic Production Needs
From design and development, to delivery of finished parts, CBM Plastics works for you. We are committed to your success, whether your project is a simple mold and ship part, or one that requires assembly of multiple components. Our mission is to provide you with quality parts in a timely manner.
Headquartered in Arthur, IL, CBM Plastics offers a single-house supplier experience with extensive fields of expertise and on-site equipment. Call us now at 217-543-3870 or email info@cbmplasticsusa.com to schedule a no-commitment consultation appointment or receive a cost quotation. We highly encourage this first step in the relationship-building process, so contact us now and let's start a conversation about your custom injection molding needs.